The city where Carnival is lived 365 days a year
La ciudad donde el Carnaval se vive los 365 días del año
Barranquilla, capital of the state of Atlantico is located in the northern part of the Colombian Caribbean Region, has a population of approximately 1.2 million inhabitants which makes it the fourth most populated city in Colombia after Bogota, Medellin and Cali. The estate of Atlantico as a whole has 2.3 million inhabitants.
Barranquilla is known as the Golden Gate of Colombia for being the city that allowed the entrance of the progress to the country. The arrival of immigrants and commercial exchange made Barranquilla a pioneer city of multiple milestones such as aviation and navigation wich marked the history of the development of Colombia.


Considered the capital of the Caribbean Region, where the union of the Magdalena River with the Caribbean Sea frames the idiosyncrasy of a happy and open-minded culture with those who visit us for the first time or whom after visiting it decided that is here where they want to live. Is the city where you live the most important party in Colombia, the Carnival of Barranquilla, a festival declared as an Oral and Intangible Heritage of Humanity by UNESCO. A festivity that gives to locals and foreigners the possibility of enjoy different activities that make us a unique city, that those who live it never forget.
State of Atlantico
It is one of the 32 States in which the Republic of Colombia is divided politically. It is located in the Caribbean Region of Colombia and its capital is Barranquilla. It has an area of 3.19km2 and has 2,373,500 inhabitants. It is the most populated State of the Colombian Caribbean Region.
The founding fathers of the State were descendants of two large families; Caribes and Arawak. The most outstanding tribe was the Mocaná, that setlled in different areas and according to the places that they occupied, baptized the municipalities , many of which still conserve their name, Tubará, Usiacurí, Piojó, Galapa, Malambo, Baranoa, among others are a few examples.
Barranquilla is a city with a unique cultural, gastronomic and fashion offer, an ideal combination to satisfy the tastes and palate of those who visit the city to enjoy our Carnival or visit us for business, meetings, congresses or conventions.
¡Below we list several places you can visit during your stay in Barraquilla!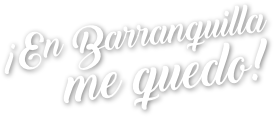 Facing the Caribbean Sea where the Magdalena River comes to an end, Barranquilla opens its doors to progress, diversity, to its own and foreign traditions to give the world an unforgettable welcome.
Links of interest
Consult more information about Barranquilla in the following links: